Go Berkey
The Go Berkey system is a lightweight, portable water purification system.  An ideal system for biking, hiking, keeping in your car, office, or other small space.  Small enough for a backpack along with other items.  Ideal for emergency situations and physical activities when you need clean water fast. 
Comes with a BPA-free Berkey Sport Bottle, which is a light-weight bottle great for long hikes or extended exercise. Holds one quart and best for clean water on the go.
Warranty: each system comes with a complete factory warranty which covers the entire system as well as the filters.

Not available to Sell or Ship to California, Iowa, Hawaii, Alaska, Puerto Rico or PO Boxes.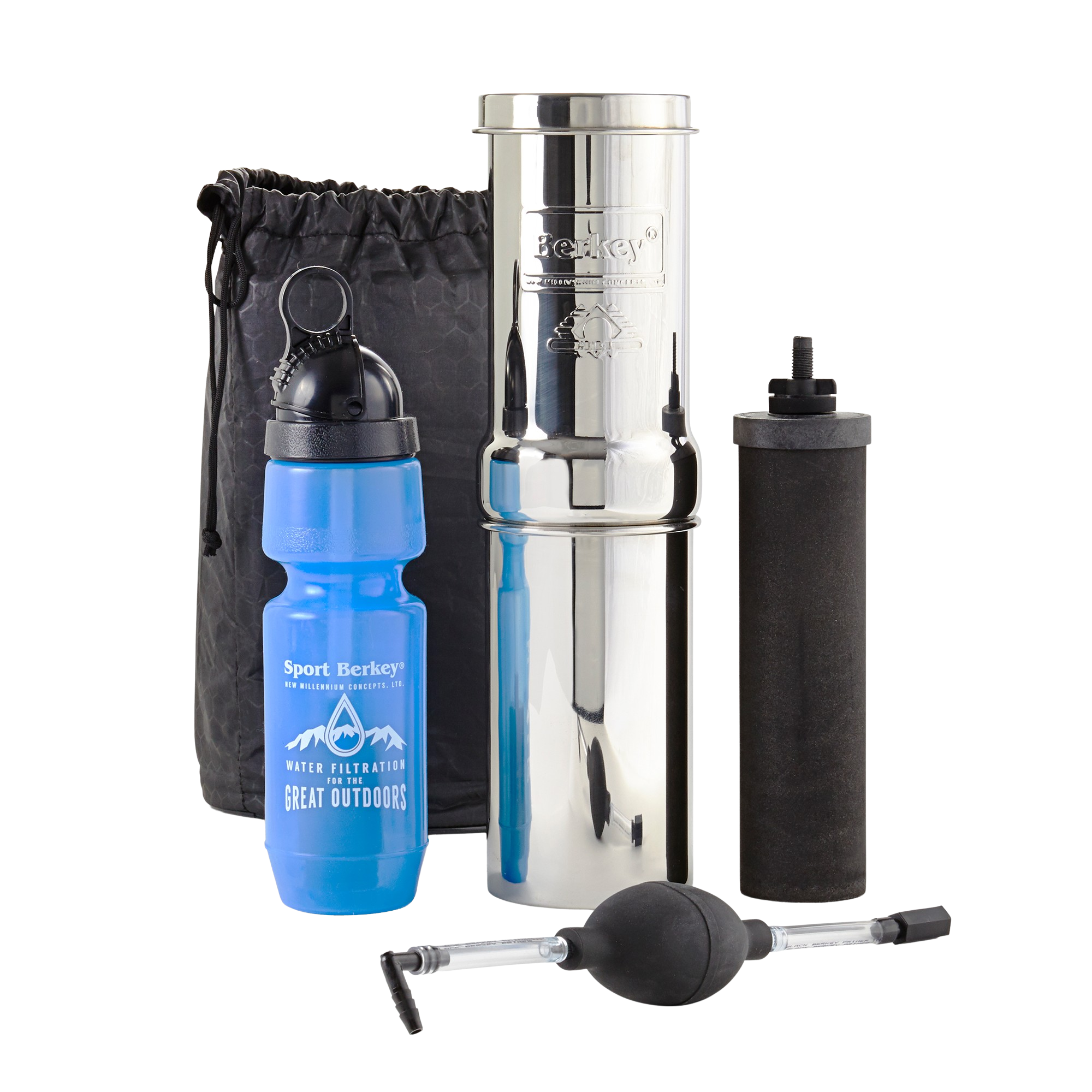 Specification
Constructed of highly polished AISI 304 stainless steel
Storage capacity of about 1 quart (.95 liters)
Upper chamber nests within lower chamber for transport and stands only 10" in height
Maximum Filters: One

Black Berkey® Element 

(upper chamber)
Kit includes: upper and lower stainless steel chambers, 1

Black Berkey® Element

, 1 wingnut, 1 washer, 1 priming button, 1 stainless steel lid,  1 

Sport Berkey® Bottle

 (22 oz.), vinyl carrying case and Black Berkey Primer™
Height when in use: 14"
Diameter: 4"
Weight: 2.4 lbs. empty
Serves: 1 or 2 people
Maximum Filtration Flow Rate: Configured with 1

Black Berkey® Element

, the Go Berkey® Kit can produce up to one gallon (3.8 liters) of filtered drinking water per hour
Not compatible with

Berkey PF-2™ 

Fluoride and Arsenic Reduction Elements
Berkey® stainless steel chambers are assembled in the USA from US and imported parts. The Black Berkey® Elements, the Black Berkey Primer™, and the Sport Berkey® bottles are made and assembled in the USA.