Royal Berkey
Get this Royal Berkey system with 2 Black Berkey Filters. This Royal Berkey system holds 3.25 gallons and 2 Black Berkey water elements are included. As an option you can add 2 Fluoride Filters. Each Black Berkey element requires one Fluoride filter in order to filter fluoride. You can also opt to add up to 4 black berkey elements and 4 Fluoride Filters as well.
It is 23"" high and only 15"" in height when you compact it for travel. It is made of a beautiful high-grade polished 304 stainless steel that looks great in every home. As a gravity water filtration system there is no electricity required, you can use it and place it anywhere.
It includes a standard plastic spigot. Three additional spigots are available to be added on. There is a Stainless Steel Spigot to replace the standard plastic spigot that is included. However, in order to view the water level without opening the system you can use one of the water view spigots. Water view spigots allow you to see the water level of the bottom canister by just looking at the spigot. There is a Plastic sight view spigot and a Stainless Steel sight view spigot as well.
Warranty: each system comes with a complete factory warranty which covers the entire system as well as the filters.

Not available to Sell or Ship to California, Iowa, Hawaii, Alaska, Puerto Rico or PO Boxes.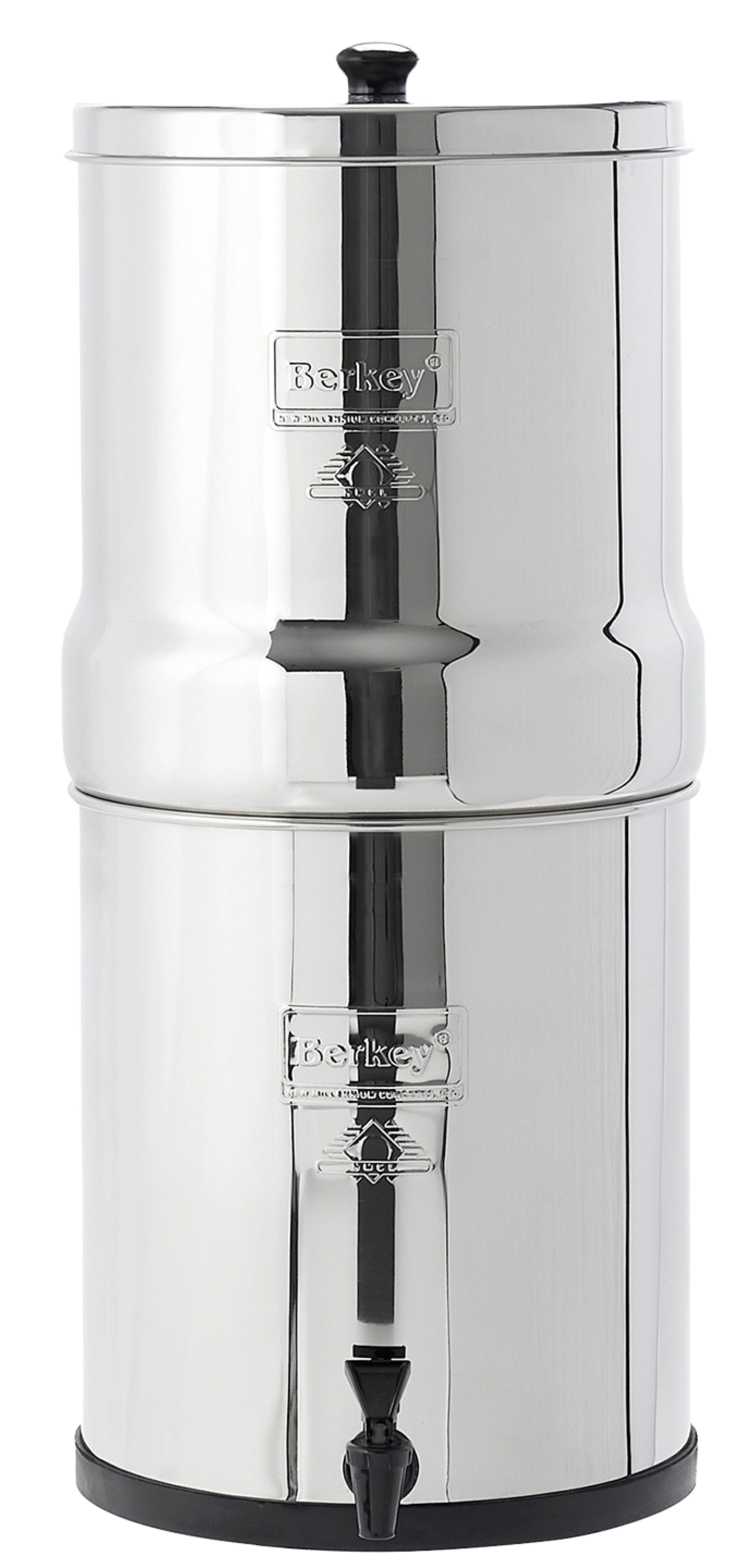 Specifications
Capacity is 3.25 gallons
23" in height with a diameter of 9.5"
For transport the upper chamber nests within the lower chamber for transport and stands only 15" in height
Constructed of highly polished 304 stainless steel
2 Black Berkey water elements are included (you can use up to 4)
2 Fluoride Filters are available as an option (you can use up to 4), choose from the drop down above, these reduce fluoride and easily screw onto the Black Berkey filters
Filters 4 gallons per hour with 2 Black Berkey elements
Filters 8 gallons per hour with 4 Black Berkey elements

For normal everyday use, this system easily serves: 2-4 people

Fully configured, this system can serve up to 100-200 people a day, during an emergency

System includes upper and lower stainless steel chamber, 2 Black Berkey Elements (expandable up to 4), 1 stainless steel lid, 1 spigot, 2 wingnuts, 2 washers, 1 priming button, 2 blocking plugs, 1 rubber gasket to protect the base