Travel Berkey - Factory Blemished
Blemished systems enable you to enjoy economic savings while being assured that the performance of your Berkey​® system has by no means been compromised. Cosmetically blemished Berkey​® systems come with the same New warrantied Black Berkey​® Elements that have made Berkey​® by NMCL the leader in the industry.
Blemished Berkey​® systems are identified by a distinctive "B" stamped on the upper and lower stainless steel chambers, which indicates that the chambers ARE NOT warrantied against cosmetic defects. However, the ​Black Berkey​® Elements carry the standard 2-year pro-rated limited warranty,​ which provides you with the same performance and longevity that you would experience with any of our non-blemished Berkey​® systems.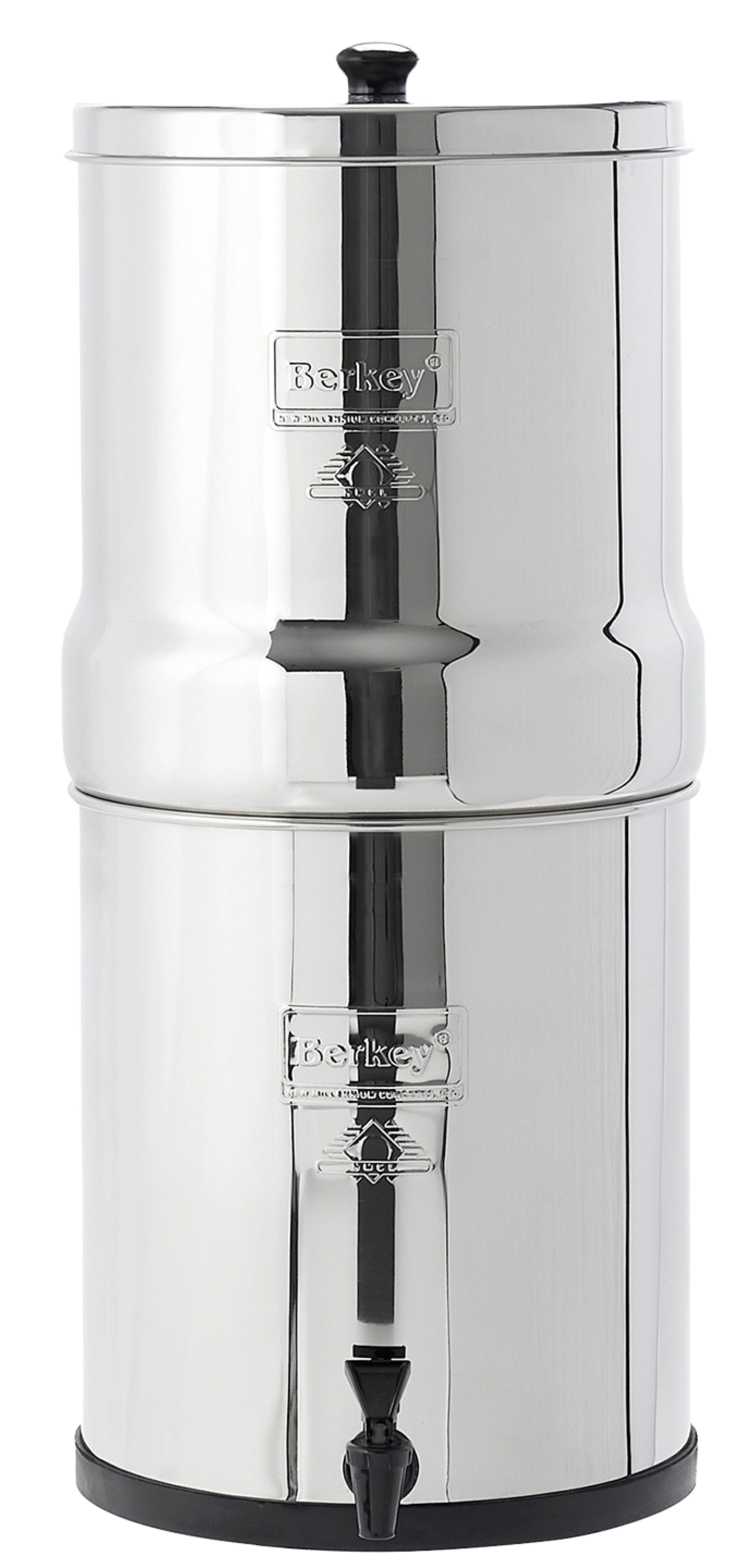 Specification
The compact Travel Berkey® System is the perfect system for traveling (fits comfortably in most carry on or larger suitcases), and during unexpected emergencies.
The Black Berkey®  Elements are the only part of this product that is covered under the manufacturer's warranty

Blemished systems are sold as is - no refunds or exchanges on blemished canisters

These systems are slightly blemished with a minor cosmetic dent or scratch on the stainless steel canister only; there are no functional or performance defects with these systems
Constructed of highly polished AISI 304 stainless steel
Storage capacity of 1.5 gallons
Upper chamber nests within lower chamber for transport and stands only 12" in height
Maximum fliters: 2

Black Berkey® Elements

 (in upper chamber)
System includes upper and lower stainless steel chambers, 2

Black Berkey® Elements

, 2 wingnuts, 2 washers, 1 priming button, stainless steel lid, spigot, and a rubber gasket to protect the base
Height when in use: 18"
Diameter: 7.5"
Weight: 6.13 lbs empty
Serves: 1 to 3 people
Maximum Filtration Flow Rate: Configured with two

Black Berkey® Elements

, the

Travel Berkey® System

 can produce up to 2.75 gallons (10.4 liters) of purified water per hour
Up to two

Berkey PF-2™ 

Fluoride and Arsenic Reduction Filters may be installed in the lower chamber of this system if desired.
Berkey® stainless steel chambers are assembled in the USA from US and imported parts. The Black Berkey® Elements are made and assembled in the USA.